Always Remember Gala | Biographies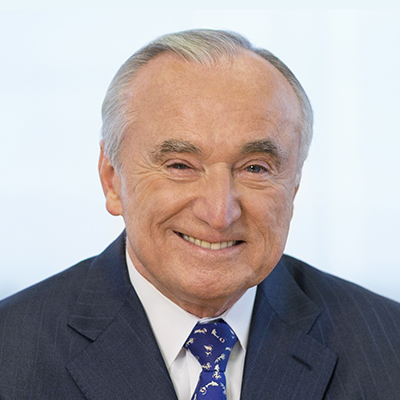 William Bratton
Former New York City Police Commissioner
William J. Bratton is one of the world's most respected and trusted experts on risk and security issues. During his almost 50-year career in law, he instituted progressive change and dramatic drops in crime while leading six police departments.
This included seven years as Chief of the Los Angeles Police Department and two nonconsecutive terms as the Police Commissioner of the City of New York. He is the only person ever to lead the police agencies of America's two largest cities.
As the Executive Chairman of Teneo Risk, Commissioner Bratton advises clients on risk identification, prevention, and response. Teneo Risk addresses six key areas: cyber security, infrastructure protection, counterterrorism, health advisory, internal threat mitigation and crisis management.
Prior to assuming his role at Teneo Risk, Commissioner Bratton was the 42nd police commissioner of the City of New York from January 2014 to September 2016. It was the second time he held the post. During that time, he oversaw 32 months of declining crime, including historic lows for murders and robberies. At the same time, he initiated an unprecedented Neighborhood Policing program to close the gap between the NYPD and the communities it serves. Neighborhood Policing refocused resources on the underlying issues in individual neighborhoods, connected police officers with community partners, enhanced outreach and communication strategies, and was a cornerstone of "precision policing"—the practice of identifying the few who create crime and disorder while safeguarding the many.
Commissioner Bratton also spearheaded the first major technological overhaul in the NYPD in years, the Mobile Digital Initiative, which gave a smartphone with custom-designed apps to every officer and put a tablet in every patrol car. These devices put an entire precinct's data capabilities in the palm of an officer's hand, allowing them to read details about calls for help, research locations of interest, search names and license plates, and complete paperwork—all while remaining in the field.
Additionally, the ever-changing threat picture in the world's number one target for terrorism mandated major reforms to the NYPD's already robust counterterrorism capabilities. In response, Commissioner Bratton developed two new units—the Critical Response Command (CRC) and the Strategic Response Group (SRG)—which now provide the city with more than 1,000 highly trained and properly equipped officers who are dedicated to counterterrorism, large-scale mobilizations, site security, and rapid deployment citywide.
Mike Greenberg
Host: Get Up, NBA Countdown & ESPN Radio
Mike Greenberg has hosted ESPN's morning show Get Up! since its debut in 2018. In October 2021 he was named host of NBA Countdown, ESPN and ABC's longstanding NBA pregame show. He made his highly anticipated return to ESPN Radio as the host of Greeny in August 2020.
The show regularly features his unique, expanded take on many of the trending topics from that morning's Get Up!. In September 2020, he became the host of Bettor Days with Mike Greenberg, a character-driven reenactment show bringing to life the true stories of unforgettable gambling adventures, for ESPN+.
For almost two decades, sports fans woke up with Greenberg as half of ESPN Radio's Mike & Mike, with co-host Mike Golic. Greenberg joined ESPN in September 1996 as an anchor for the launch of ESPNEWS. He later anchored SportsCenter for many years, even long after Mike & Mike launched on January 3, 2000. Greenberg and Golic were inducted into the National Association of Broadcasters' Broadcasting Hall of Fame in 2016 and the National Radio Hall of Fame in 2018.
In 2007, Greenberg's first book, Why My Wife Thinks I'm an Idiot, spent five weeks on The New York Times' Best Sellers List and was nominated for a Quill Award. In 2010, Greenberg, along with Golic, released Mike & Mike's Rules for Sports and Life.
Prior to joining ESPN, Greenberg worked as a reporter for SportsChannel Chicago and as a sports anchor/reporter for the regional cable news network CLTV in Chicago. In addition, Greenberg had worked for Chicago's WSCR-Radio serving as a reporter covering events including the World Series and Super Bowl and talk show host. He was also a syndicated sports columnist for the California-based Copley News Service, writing a weekly column in the mid-1990's and served as a sports anchor/reporter at Chicago's WMAQ-Radio.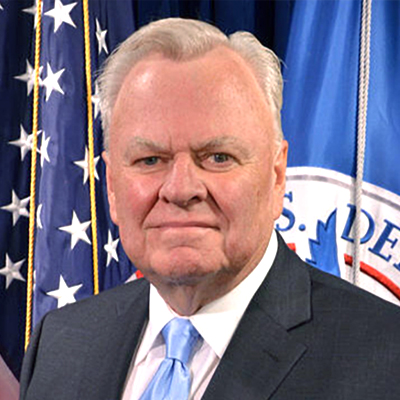 Thomas Von Essen
Former New York City Fire Department Commissioner
Tom Von Essen joined the FDNY in 1970 and worked at an elite Ladder Company in the South Bronx. Thirteen years later, he was elected to the Firefighters Union. In 1993, he was elected President. In 1996, Mayor Giuliani asked Tom to become Commissioner. This was the first and last time a Union President will ever lead FDNY.
Von Essen seized the opportunity to input "Safety/Equipment/Training" in all aspects of the FDNY. The greatest job ever for a Firefighter turned to the worst on September 11, 2001. No one cared as much or could have done more to mitigate the horror of September 11 for the FDNY.
In January 2002, Tom left to join Mayor Giuliani in his Consulting Business.
In 2008, Tom began consulting with Honeywell and Underwriters Laboratories and traveled the world speaking about FDNY, Sept 11 and improvements in safety and communication.
In 2017, he was asked to lead FEMA in its effort to help Puerto Rico and the Virgin Islands after Hurricane Maria. In 2020, he led the Federal Government Covid Pandemic Response in NY and NJ and the nightmare caused by the Pandemic.
In 2021, Tom returned to Consulting.