Introducing VOICES COVID-19 Tip Sheets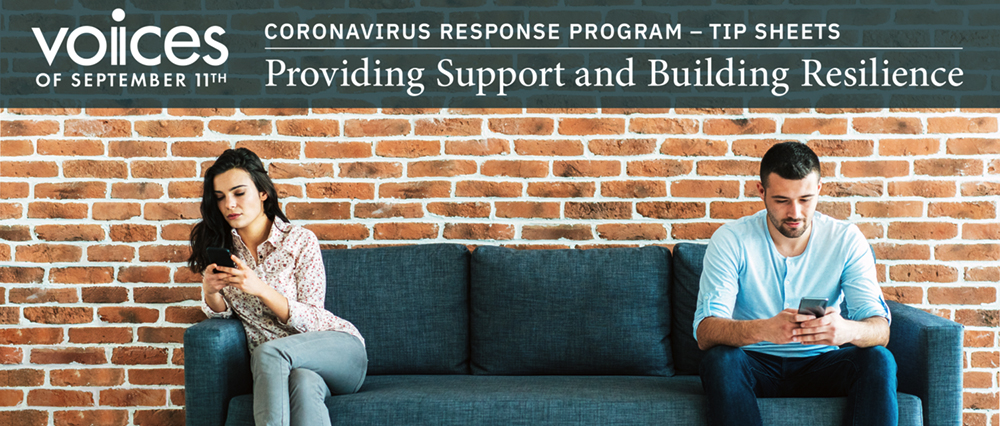 The spread of the coronavirus (COVID-19) is the most serious global health threat our communities have faced in our lifetimes.
Many communities around the world have imposed much-needed restrictions by implementing quarantines and social distancing to slow down the spread of the virus. What was once a casual greeting, "How are you?" has real meaning in light of the spread of the virus.
Beyond the serious medical concerns, our staff at VOICES recognizes that during this stressful time one's mental health and wellness could also be in jeopardy, and monitoring the signs and symptoms is critical. To that end, we have created a series of Voices of September 11th COVID-19 Tip Sheets to provide guidance on helping your children, yourselves and your family weather the storm. Simple steps you can take today, can make a difference in your ability to withstand what might be a long road ahead.
I am writing to update you on how VOICES is responding to this global crisis.
VOICES staff is meeting with our partners in the United States and abroad to share lessons learned and creative ways to provide the support that is needed for our communities, and each other.
We recognize that the 9/11 responders and survivors who have been diagnosed with 9/11-related illnesses are especially vulnerable to COVID-19. Our staff is reaching out to provide support.
VOICES Response to COVID-19 website will continue to be updated with relevant information, resources and programs to provide support and build resilience for you and your family. In the coming weeks we are launching programs to provide additional online support.
VOICES COVID-19 Tip Sheets, specifically for dealing with the mental health concerns related to the COVID-19 virus, include: Talking With Children, Guidance for Individuals and Families, Common Reactions to Stressful Situations, Mental Health Considerations and Mental Health and Medical Resources. The Tip Sheets are available online here
During this challenging time, our thoughts are with all those who affected by the outbreak, both those who are ill and those who have died from the disease. We are deeply grateful to the individuals who are working tirelessly to support our communities during this challenging time.
Our staff is working remotely, but we are available by phone and email. Call the office at 203-966-3911 and leave a message, or send an email to VoicesSupport@voicesofsept11.org and we will respond.
It's important at this time of social distancing, that we stay connected with our families and friends, and remind each other that we are in this together, and we are not alone.
Feel free to forward this information to family and friends. Stay safe, stay healthy and stay connected!