VOICES hosts training session on motivational interviewing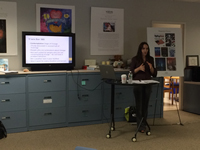 On June 10th, the Voices Center of Excellence for Community Resilience hosted a half-day training on motivational interviewing at its New Brunswick office.  Emma Shelby, Assistant Director of Wellness and Recovery Services at The Mental Health Association in New Jersey, provided the training. 
During the event, Ms Shelby spoke about motivational interviewing principles and techniques and how they can be used as an effective strategy for engaging clients in behavior change. She explained that motivational interviewing is a collaborative, person-centered form of interviewing to illicit and strengthen motivation for change. It is used to seek to understand the person's frame of reference. Key to its success is reflective listening, expressing empathy, support of self-efficacy, rolling with resistance, and avoiding arguments. 
According to the VOICES Program Director in New Jersey, Carrie Miller, motivational training is fundamental to the work of the organization. "Motivational Interviewing can be helpful in working with first responders in particular because the techniques utilized don't require us as providers to use a forceful hand on anyone. The desire and want for the change comes from deep within themselves and we, as the providers, just assist them in seeing it more clearly." 
The Voices Center of Excellence for Community Resilience shares lessons learned to assist communities in preparing for, responding to and recovering from traumatic events.