VOICES Interns are Going to Camp!
Last week, VOICES summer interns had an office surprise… we're going to camp! With three New Canaan Rams, a Bucknell Bison and Loyola Greyhound in tow, the interns will head up to Vermont for a weekend of leadership camp with the Jerusalem Peacebuilders. At Acer Farm, we will have the opportunity to meet Israeli, Palestinian, and American students of the Jewish, Muslim, and Christian faiths and to discuss our experiences with the Israeli-Palestinian conflict through our own unique perspectives.

JPB is a non-profit organization with the mission of "creating a better future for humanity across religions, cultures, and nationalities." By bringing together Israeli, Palestinian, and American teens at a residential camp every summer, the organization hopes to provide them with the skills to become leaders in their own communities. Based in Brattleboro, Vermont, the campers participate in common camp activities: arts and crafts, swimming, sports, and, of course, campfires. The curriculum also includes team-building opportunities aimed at developing critical thinking in campers: "leadership and communication skills, democracy and civil society, conflict transformation, and interfaith education."
The Reverend Nicholas Porter and his wife, Dorothy, conceived the idea of Jerusalem Peacebuilders on the 10th anniversary of September 11th. They felt the attacks "brought new urgency to the timeless call for Holy Land peacemaking." I cannot help but feel this is also a particularly meaningful time to be attending such a camp, with the outbreak of Hamas rocket fire in the Gaza strip and the ensuing Israeli Defense Force response. The images of young Palestinian teens hit by shrapnel from IDF airstrikes have been prominent on many news sites, along with the picture of the young Israeli soldier allegedly kidnapped by Hamas. As a Global Studies major, I have taken several classes on the Israeli-Palestinian conflict, learning about the history of the conflict as well as the many contested issues: territorial disputes, Palestinian refugees in the surrounding Arab countries, Israeli settlements in Palestinian areas, the debate over Jerusalem as the capital of both states, and security. No matter your view of the situation, it is clear that our generation is directly involved on both sides of the struggle.
Mr. Richard Webb, former chairman of New Canaan High School's history department, is enthusiastic about the opportunity for our interns to visit JPB: "Historian Niall Ferguson has asserted that America will not collapse from political or economic deficit, but from attention deficit…This is an attempt to bring U.S. kids' attention to the Middle East and its complexities." The recent outbreak of violence in the area suggests that Israeli-Palestinian tensions will not abate any time soon and one day our generation may be faced with building a lasting and sustainable peace. Camps like Jerusalem Peacebuilders provide the opportunity to create trusting relationships that such a peace will necessitate.
For more information, please visit Jerusalem Peacebuilders website: http://jerusalempeacebuilders.org.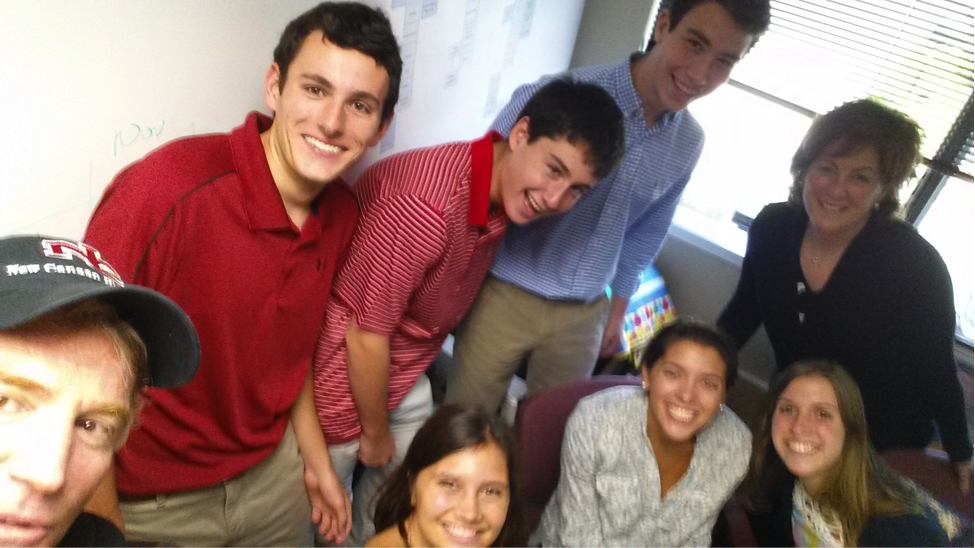 VOICES interns planning out the Leadership Camp weekend with Mary Fetchet and Richard  Webb.