Voices of September 11th (VOICES) - an internationally recognized nonprofit organization providing support services for over a decade to those impacted by 9/11 - will honor CBS News Chairman and 60 Minutes Executive Producer Jeff Fager with its Building Bridges Award.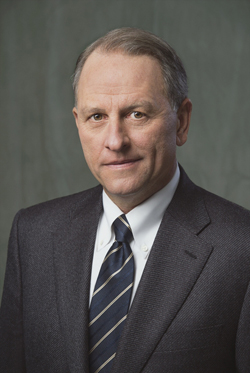 Initiated in 2004, VOICES Building Bridges Award recognizes individuals who have made significant contributions to the 9/11 community and our nation. Past recipients include Prime Minister Tony Blair, NBC News Anchor Brian Williams, Secretary of State Hillary Clinton, Mayor Rudolph Giuliani, Secretary Janet Napolitano, and New York City Police Commissioner Ray Kelly.  
  "VOICES is delighted to recognize Jeff for his leadership at CBS News and as Executive Producer of 60 Minutes," said Founding Director Mary Fetchet. "His insights and unwavering commitment over the years to reporting on important issues and stories surrounding 9/11 and its aftermath are to be commended."  
"There is a need for long-term support of the 9/11 community," added Ms. Fetchet. "With the opening of the Museum this year, many people are coming forward for the first time seeking our assistance. VOICES and the 9/11 community want to thank Jeff for all he has done to ensure that our nation will Always Remember."  
"9/11 stands as the most significant symbol of the necessity of robust news organizations dedicated to covering important stories," noted Mr. Fager. "It is not just our job; it is our responsibility to pour our resources into original reporting all over the world, gathering information that contributes to preventing that kind of terror and tragedy from ever happening again."  
In addition to the award presentation, the evening's program will also feature a keynote conversation with the Honorable Thomas H. Kean, Chairman of the 9/11 Commission, and Senator Joseph Lieberman, Former Chairman of the Senate Homeland Security Committee. Norah O'Donnell, Co-Host of CBS This Morning, will serve as moderator. Both Governor Kean and Senator Lieberman are members of VOICES Senior Advisory Board.  
"It has been ten years since the 9/11 Commission released their initial findings," explained Ms. Fetchet. "To mark that milestone, the Commission has published a follow-up report that reflects on how the world has changed over the past decade, and what more needs to be done to improve national security. Governor Kean and Senator Lieberman will be discussing these findings during their keynote conversation."  
VOICES Board Member Bonnie McEneaney and her sister-in-law Deb McEneaney are planning a special evening that will raise important funds to support VOICES ongoing work to provide long-term services for 9/11 families, survivors, and responders. The event will also support the organization's efforts to help families and communities heal after other tragedies, by sharing best practices in preparing for, responding to and recovering from acts of mass violence or natural disasters.  
The evening begins at 6 p.m. with a cocktail reception, followed by the keynote conversation, dinner, the Building Bridges Award, and a special musical performance by award-winning Broadway performer Carolee Carmello.  
Voices of September 11th is grateful to Lend Lease for its support as a Leadership Sponsor.  
For more information on sponsorship opportunities, table reservations or individual tickets, visit www.voicesofseptember11.org, or contact Frank Fetchet at 203-966-3911.  
About Voices of September 11th
Founded in 2001, Voices of September 11th (VOICES) is internationally recognized for its innovative approach to providing programs that promote resiliency for thousands of 9/11 families, first responders and survivors. VOICES 9/11 Living Memorial, an extensive collection of over 70,000 photographs and personal keepsakes that commemorates the lives of the nearly 3,000 lost on 9/11, is a core component of the In Memoriam exhibition at the 9/11 Museum in New York City. A strong advocate for national preparedness, VOICES promotes reforms to make the country safer and shares best practices to help heal families and communities after tragedy.  
Recent acts of mass violence and natural disasters have underscored the need for communities to be better prepared. In the fall of 2014, VOICES will launch a comprehensive Resource Kit to assist communities in preparing for, responding to, and recovering from incidents of mass violence. Recommendations are based on extensive research and interviews conducted with hundreds of service providers who responded to the September 11th attacks, the Oklahoma City bombing, and the shootings at Virginia Tech, Northern Illinois University and Tucson, Arizona.
This year, the VOICES Center for Excellence for Community Resilience was launched as part of the organization's commitment to helping families and communities heal after other tragedies. The VOICES Center acts as a clearinghouse of information, sharing over a decade of expertise and research findings that address the long-term needs of victims' families and survivors. The initiative will expand through partnerships with subject matter experts, government agencies, organizations, and universities.