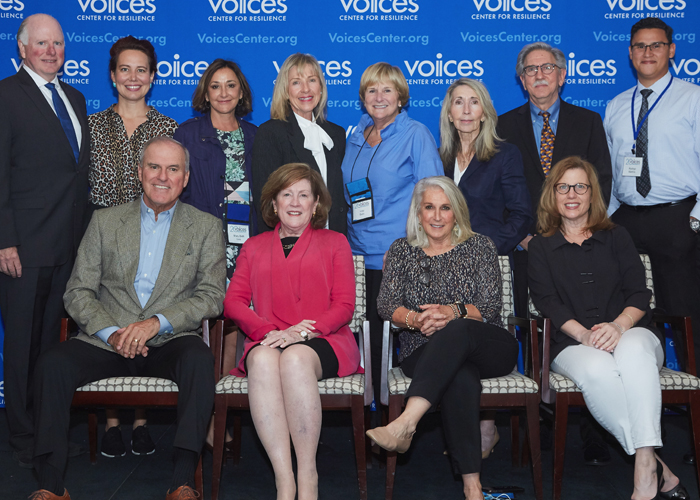 Join our team of dedicated professionals as a volunteer! We are looking for people who want to make a difference by supporting the 9/11 community and others who have been affected by mass violence and disasters.
VOICES seeks volunteers throughout the year to work with the full-time staff at our offices, as well as for special events including the annual Resilience Symposium and the annual Always Remember Gala. Though special skills are always welcome, the only requirement for volunteers is a desire to assist others and further our mission. Please contact our office for more information or to begin working with us.
Voices Center for Resilience Seeks Director of Social Services
Description:
Voices Center for Resilience (VOICES), formerly known as Voices of September 11th, is seeking a Director of Social Services - a Licensed Social Worker who will lead the daily operations of our support services and the development and delivery of programs. Responsibilities include conducting assessments and outreach efforts, facilitating virtual support groups, workshops and webinars for victims' families, survivors, responders, and communities impacted by tragedies. This position also includes development of VOICES 20th Anniversary programs for the 9/11 community.
Responsibilities also includes overseeing the expansion of our partnerships and supervision of graduate student social work interns. The position is a full time, salaried position and is located in our New Canaan, CT office, but all support services, programs and client contact are conducted virtually. Some evenings are required to coordinate virtual programs.
The ideal candidate is passionate about our mission and interested in expanding their professional expertise by leading our mental health and wellness initiatives to address the long-term needs of individuals and communities impacted by acts of mass violence. The individual should be enthusiastic and confident in leading our social service programs, while working collaboratively with the VOICES Founding Director and staff members, and our partners to coordinate educational programs, annual conferences and partnerships.
Skills and requirements:
LSW or LCSW with minimum of 5 years of experience
Case management, referrals, assessments and facilitation of support groups
Client and community outreach and partnerships
Ability to manage multiple projects simultaneously
Interest in the field of trauma, bereavement, resiliency
Experience working with individuals and communities impacted by tragedy
SIFI training and supervision experience is a plus
Computer and database documentation skills required
Program development and management skills
This is a full-time, salaried position with benefits, including insurance.
Resume and cover letter should be sent to: Mary Fetchet at mafetchet@voicesofsept11.org
---
About Voices Center for Resilience (VOICES), formerly Voices of September 11th
From 9/11 to today, VOICES provides long-term support and resources that promote mental health care and wellness for victims' families, responders and survivors and assists communities in preparing for and recovering from tragedy. Leveraging our 19 years of expertise, VOICES works collaboratively with public-private partnerships to share lessons learned, conduct training and research, in the United States and abroad.
COVID-19 considerations: Our staff is resuming work in the office, following all COVID protocols with individual office spaces. Client contact is conducted virtually.