20th Anniversary Gala | Biographies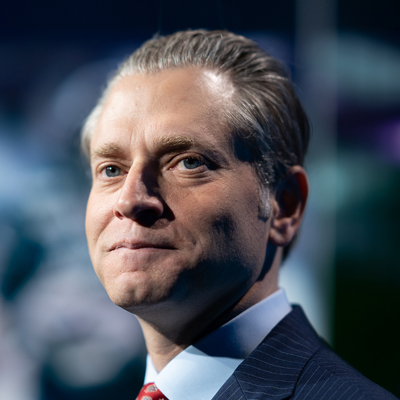 Jeremy Schaap
E:60 and Outside the Lines Host
One of ESPN's most respected and longest-tenured personalities, Jeremy Schaap has been with the network since 1994. He hosts both E:60 and Outside the Lines, as well as the award-winning weekly radio show and podcast The Sporting Life.
Schaap has covered most major sports and sporting events, including the summer Olympics, the winter Olympics, the FIFA World Cup, the Tour de France, the European soccer championship, the World Series, the Super Bowl, the U.S. Open (golf and tennis), Wimbledon, the French Open, the men's Final Four, the women's Final Four, the New York City marathon, the NBA playoffs, the World Cup of Hockey, the Daytona 500, the Kentucky Derby, the Belmont Stakes, the college football national championship game, the Breeders' Cup, world championship boxing, the Special Olympics World Games, the Invictus Games, the X Games, and even, yes, chess boxing.
In 2018, Schaap co-directed 42 to 1, the acclaimed 30 for 30 documentary about Buster Douglas, who in 1990 upset Mike Tyson to win the undisputed heavyweight championship.
But it has been Schaap's reporting on sports issues around the world, especially those at the intersection of sports and society at large, focusing on human rights, for which he is perhaps best known.
In 2015, Schaap won the prestigious Robert F. Kennedy Award for reporting on human rights and social justice issues, a first for ESPN. The RFK Center honored Schaap for his story exposing the plight of migrant laborers in Qatar, who live and work in inhumane conditions, even as they build the infrastructure for the 2022 World Cup. Schaap has also been lauded for the 2015 E:60 documentary he reported and hosted on FIFA under its longtime president, Sepp Blatter.
Schaap has also won two national Edward R. Murrow Awards as well as a Peabody Award, two National Headliner Awards and 12 national Sports Emmy Awards. He is the author of Cinderella Man: James J. Braddock, Max Baer and the Greatest Upset in Boxing History, a New York Times bestseller which The Economist called, "A classic of its kind," and Triumph: The Untold Story of Jesse Owens and Hitler's Olympics, which Sports Illustrated called "a vivid portrait not just of Owens but of '30s Germany and America."
In 2006, Schaap won the national Sports Emmy Award for writing—an award named for his father, Dick Schaap—for a memorable profile of Bobby Fischer. In 2018, thirteen years after the story first aired, Tablet Magazine wrote, "Schaap's showdown with Fischer is still powerful because it's one of modern journalism's most compelling moments of anti-closure, resonating because it draws attention to what we'll never get to learn."
Schaap's three national Sports Emmy Awards in journalism recognized stories he reported on a Serbian basketball player accused of a brutal assault, an Israeli soccer team's anti-Muslim fans and child fighters in Thailand risking their lives to support their families.
It was also Schaap who conducted the first interview with Hall of Fame coach Bob Knight after he was fired by Indiana University in 2000. In the New York Post, Phil Mushnick called the interview, which turned confrontational, "A slam dunk… one that should be stored in the annals of sports broadcast journalism."
It was Schaap, too, who conducted the first interviews with Darryl Strawberry, then with the New York Yankees, after he was diagnosed with colon cancer; with Plaxico Burress of the New York Giants, after he shot himself in a New York City nightclub; and with Manti Te'o, the Notre Dame linebacker, after it was reported that his supposed girlfriend had never existed.
In February 2003, Schaap broke the story of a pattern of misconduct by the University of Georgia's basketball coaching staff. The investigation led to Georgia's withdrawal from the SEC and NCAA tournaments and the departure of head coach Jim Harrick. John Jackson of the Chicago Sun-Times wrote, "The report was the kind of first-rate reporting rarely seen on TV. Jeremy Schaap's reporting was fair and balanced."
In 2011, Schaap was honored by the United Nations with a special commendation for a report on so-called corrective rape, the sexual attacks committed against lesbians in South Africa. In 2006, Schaap received the annual journalism award of the National Association for Multi-Ethnicity in Communications, for a story on the Morgan State lacrosse team, the only lacrosse team ever fielded by a historically black college. In 2001, Schaap was honored by the Columbia University Graduate School of Journalism for his two-part story on a white Florida high school football coach whose use of a racial epithet sparked a local furor. And in 2015, Schaap won a PRISM Award for reporting on addiction issues, for a story about Cowboys' tight end Jason Witten and his abusive father.
Also in 2015, Schaap was nominated for a national News and Documentary Emmy Award for an E:60 profile of a survivor of extreme domestic violence. ESPN had never before been nominated for a News Emmy Award. Schaap has been nominated for the national Sports Emmy Award in journalism multiple times.
Schaap has longstanding relationships with several charitable organizations, including the Greater New York chapter of the ALS Association, which has honored him with its Iron Horse Award; the Crohn's and Colitis Foundation of America, which has honored him with its Lifetime Achievement Award; and Prevent Child Abuse New Jersey, whose annual banquet he emcees. Additionally, the Muscular Dystrophy Association honored him with the Steve Ennis Hope Award in 2017.
Born in New York City, Schaap is a graduate of Cornell University and resides in Connecticut.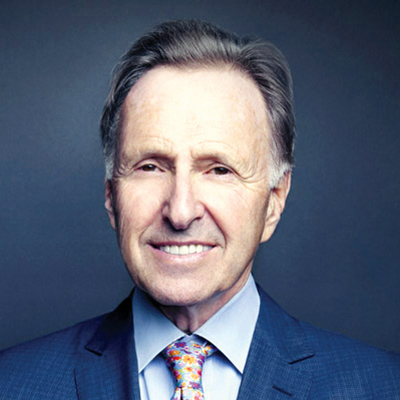 Robert J. Hurst
Vice Chairman, Crestview Partners
Robert J. Hurst, has a 51-year career in financial services, having started in 1969 at Merrill Lynch in investment banking and then moving to Goldman Sachs in 1974. For over 30 years at Goldman Sachs, Mr. Hurst managed significant client relationships and held a variety of leadership positions, having become a Partner of Goldman Sachs in 1980, Head of the Investment Banking Services Department in 1987, and Co-Head and then Head of the Investment Banking Division worldwide from 1990 to 1999.
Following Goldman Sachs' IPO, Mr. Hurst became Vice Chairman and a member of the Board of Directors and focused on firm-wide matters, including strategic planning. Mr. Hurst is currently a Senior Director of Goldman Sachs. In 2005, Mr. Hurst joined Crestview Partners, L .P., a value oriented private equity firm focused on the middle market ("Crestview"), as a Partner. He initiated and worked on investments in a variety of industries, including financial and business services, healthcare, energy, apparel, technology, retail and utilities. In 2019, Mr. Hurst became Vice Chairman of Crestview and his Crestview involvement currently is mostly limited to board representation on Victory Capital and Oxbow Carbon LLC. Over his career, Mr. Hurst has served on the Boards of Directors of over a dozen public companies, including Goldman Sachs (NYSE: GS), USF&G (NYSE: FG), Paris Re, now a part of PartnerRe Ltd. (NYSE: PRE-H), Victory Capital (Nasdaq: VCTR), and Constellation Energy.
Mr. Hurst has been active in the non-profit sector, retiring a year ago as Chairman of the Board of Directors of the National Cyber Security Center, and retiring two years ago as Chairman of the Aspen Music Festival and School, where he continues as a member of the Executive Committee. He is the former President and Chairman of the Board and currently Chairman of the Executive Committee of the Whitney Museum of American Art. He is currently a trustee and member of the Executive Committee of the Aspen Institute, Chairman Emeritus of the Jewish Museum, and a former member of the Board of Overseers of the Wharton School. Mr. Hurst was appointed by Governor John Hickenlooper to the Colorado Economic Development Commission (now retired) and is a member of the Council on Foreign Relations. Mr. Hurst was also founding Chief Executive Officer of the 9/11 United Services Group, the coordinating arm for 13 social services organizations, including the Red Cross, involved in the relief activities. Mr. Hurst received an M.G.A. from the Wharton School at the University of Pennsylvania and an A.B. From Clark University. He did additional graduate work as a Public Finance Fellow at the University of Pennsylvania.
Edie Lutnick
Co-Founder and President, The Cantor Fitzgerald Relief Fund
Edie Lutnick is the Co-Founder and President of The Cantor Fitzgerald Relief Fund, a 501(c)3 not-for-profit charity that was established on September 11th, 2001 to address the short and long term needs of victims of terrorism. In 2005, The Cantor Fitzgerald Relief Fund expanded its mission to include aid to families impacted by natural disasters and emergencies as well as direct service charities.
Under Ms. Lutnick's leadership, the Cantor Fitzgerald Relief Fund had distributed approximately $369 million and implemented numerous programs to assist victims and their families. The Relief Fund's disaster relief programs have given direct financial aid to families with young children impacted by Hurricanes Irma and Maria in Puerto Rico, Hurricane Harvey in Houston, the 2017 Northern California wildfires, Superstorm Sandy in New York, and the tornado in Moore, Oklahoma, as well as assistance to the wounded members of our military.
Ms. Lutnick facilitates the annual Charity Day events at Cantor Fitzgerald and BGC Partners, where 100% of the firms' revenues on September 11th are donated to The Cantor Fitzgerald Relief Fund, which in turn assists hundreds of deserving not-for-profits around the world. Since its inception, Charity Day has raised approximately $192 million.
A sought after and inspiring public speaker, Ms. Lutnick addresses a wide variety of audiences on topics including leadership, corporate and social responsibility, 9/11, resilience, living with tragedy, non-violence, and disaster relief and planning. She is also the author of "An Unbroken Bond: The Untold Story of How the 658 Cantor Fitzgerald Families Faced the Tragedy of 9/11 and Beyond."
Ms. Lutnick holds a BS from the University of Rhode Island and a JD and MBA from Syracuse University. She is a respected voice on several 9/11 advisory committees, including the September 11th National Memorial and Museum and is a member of the Board of Directors of The Cantor Fitzgerald Relief Fund, Evolve, and an Honorary Board member of A Caring Hand: The Billy Esposito Foundation.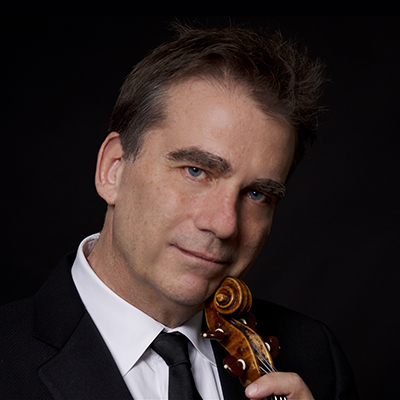 Robert McDuffie
Grammy-Nominated Violinist
Grammy-nominated violinist Robert McDuffie enjoys a dynamic and multi-faceted career. While appearing as soloist with the world's foremost orchestras on five continents, he has also shared the stage with Rolling Stones pianist Chuck Leavell and the late Gregg Allman in "Midnight Rider", and with actress and playwright Anna Deavere Smith in Martin Luther King's "Letter from Birmingham Jail".
Philip Glass dedicated his Second Violin Concerto, The American Four Seasons," to Mr. McDuffie. Mike Mills of the iconic band R.E.M. composed a Concerto for Violin, Rock Band, and String Orchestra for him. Mr. McDuffie has been performing both of these works throughout the United States and abroad and has recorded both on the Orange Mountain Music Label. His discography includes acclaimed recordings on Telarc, EMI and Philip Glass' Orange Mountain Music.
Robert McDuffie is the founder of the Rome Chamber Music Festival in Italy, where he has been given the prestigious Premio Simpatia by the mayor of Rome and also awarded the Premio delle Muse at the Palazzo Vecchio in Florence, Italy. He is founder of the Robert McDuffie Center for Strings at Mercer University in his hometown of Macon, Georgia, and holds the Robert McDuffie Violin Faculty Chair at Aspen Music Festival and School. He plays a 1735 Guarneri del Gesu violin, the "Ladenburg", owned by a limited partnership formed by Mr. McDuffie.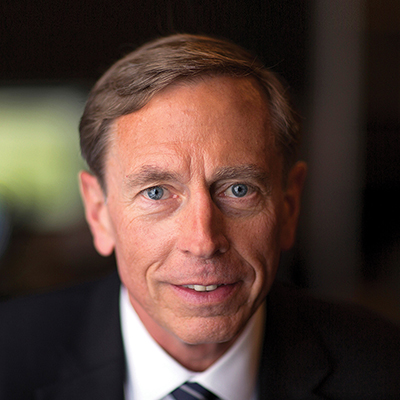 General David H. Petraeus
General, US Army (Ret.), Partner, KKR & Chairman, KKR Global Institute
General David H. Petraeus (US Army, Ret.) is a Partner in the global investment firm KKR and Chairman of the KKR Global Institute, which he established in May 2013. He is also a member of the boards of directors of Optiv and OneStream, a personal venture investor, and engaged in a variety of academic endeavors.
Prior to joining KKR, General Petraeus served over 37 years in the U.S. military, culminating his career with six consecutive commands, five of which were in combat, including command of the Surge in Iraq, command of U.S. Central Command, and command of coalition forces in Afghanistan. Following retirement from the military and after Senate confirmation by a vote of 94-0, he served as Director of the CIA during a period of significant achievements in the global war on terror, the establishment of important Agency digital initiatives, and significant investments in the Agency's most important asset, its human capital. General Petraeus graduated with distinction from the U.S. Military Academy and is the only person in Army history to be the top graduate of both the demanding U.S. Army Ranger School and the U.S. Army's Command and General Staff College. He also earned a Ph.D. from Princeton University's School of Public and International Affairs. General Petraeus has had academic appointments over the years with the U.S. Military Academy in the mid-1980s, the Honors College of the City University of New York, Harvard University, and the University of Southern California.
He is currently a Visiting Fellow at Yale University's Jackson Institute, Co-Chairman of the Global Advisory Council of the Woodrow Wilson Center for International Scholars, Senior Vice President of the Royal United Services Institute, and a Member of the Trilateral Commission, as well as a member of the boards of the Atlantic Council, the Institute for the Study of War, and over a dozen veterans service organizations.
Over the past 15 years, General Petraeus was named one of America's 25 Best Leaders by U.S. News and World Report, a runner-up for Time magazine's Person of the Year, the Daily Telegraph man of the year, a Time 100 selectee, Princeton University's Madison Medalist, and one of Foreign Policy magazine's top 100 public intellectuals in three different years. General Petraeus has earned numerous honors, awards, and decorations, including four Defense Distinguished Service Medals, the Bronze Star Medal for Valor, two NATO Meritorious Service Medals, the Combat Action Badge, the Ranger Tab, and Master Parachutist and Air Assault Badges. He has also been decorated by 13 foreign countries and is believed to be the only person who, while in uniform, threw out the first pitch of a World Series game and did the coin toss for a Super Bowl.