Announcing VOICES 20th Anniversary Programs & Events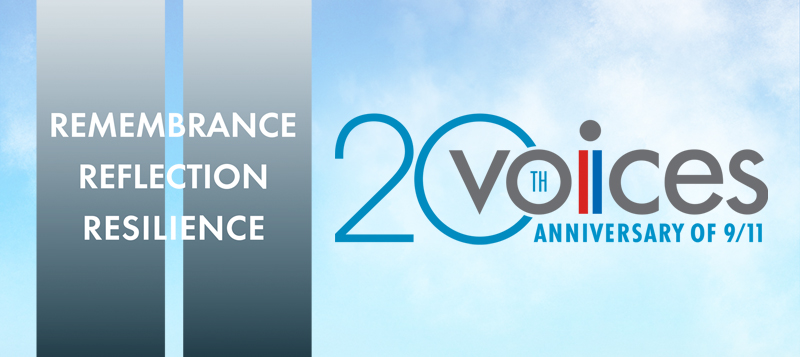 VOICES 20th Anniversary Commemoration
Dear Families and Friends,
The 20th Anniversary is a milestone for the families and friends who lost loved ones on September 11, for our nation and the world that was forever changed that day, and for VOICES as an organization.
Remembrance, Reflection and Resilience is the theme of VOICES 20th Anniversary Programs and Events. For nearly two decades, these principles have guided our pioneering efforts to provide support for thousands of victims' families, responders and survivors, and to advocate for important public policy reforms.
As the 20th Anniversary approaches VOICES staff is honored to continue this important work. Our upcoming programs will promote resilience and opportunities for the 9/11 community to reconnect with one another.
As always, our staff is available to assist you and your family in the days and the months ahead. Contact our office at 203-966-3911 if we can be of assistance.
Warm regards,

Mary Fetchet & the VOICES Staff
---
VOICES 20th Anniversary Programs

Reflections on the 20th Anniversary Video
Premieres September 2020
To mark the 20th Anniversary, VOICES is creating a video highlighting the reflections of prominent dignitaries, those who were impacted or who made significant contributions in the aftermath of 9/11.
Pathways to Resilience Programs
May to December 2021
This month, we launched our Pathways to Resilience Programs, beginning with a 5-week series of workshops, Building Personal and Community Resilience. Leading up to the anniversary we are hosting ongoing programs including interactive workshops, discussion groups, writing workshops and peer-to-peer events to promote mental health care and wellness.
9/11 Living Memorial Honoring Survivors and Responders
Launching June 2021
As we commemorate May 30, 2002, VOICES is launching the Living Memorial Digital Archive Project, to honor and document the lives of the over 4,100 responders and survivors who have died of 9/11-related illnesses. VOICES staff is working with families to collect photographs and other mementos that will be included in the online tribute.
Wolfgruber Digital Resource Library
Launching January 2022
The Wolfgruber Digital Resource Library is a central repository and growing collection of publications focused on mental health care and resiliency studies. VOICES goal for the library is to share expertise, evidence-informed resources, and research to promote healing and build resiliency through access to relevant publications, videos and presentations.
---
VOICES 20th Anniversary Events

Voices of Reflection Art Exhibit
Premieres September 1, 2021
Voices of Reflection Art Exhibit will feature a selection from VOICES extensive collection of thousands of pieces of artwork created in response to, and in the years following 9/11. Artwork was created by individuals of all ages – from school-age children to accomplished artists – living throughout the country and around the world. The exhibit will be held at Silvermine Arts Center in New Canaan, CT and the broader art collection will be featured online.
20th Annual Remembrance Symposium
September 9 and September 10, 2021
VOICES Annual Remembrance Symposium two-day event will once again be held at the Marriott Downtown Hotel in New York City, and also broadcast virtually. The event will feature prominent dignitaries, presentations by leading experts in mental health, trauma, legal issues, and national security. Topics will explore social impact, public policy reform, and lessons learned from those impacted by traumatic events. As always, the symposium is an opportunity for the 9/11 community to gather in advance of the anniversary.
Always Remember Gala
November 12, 2021
This year's Annual Gala promises to be another inspirational evening commemorating the 20th Anniversary and recognizing guests who have made significant contributions through their dedication and leadership. The Annual Gala will be held in New York City, raising important funds to support VOICES ongoing work to help families and communities heal after tragedy.
Mark your calendar!
Registration for VOICES Anniversary Programs and Events will open in the coming weeks.
Click here for updates and to learn more.
---
The 20th Anniversary is a unique opportunity to support VOICES work.
If you would like to become a sponsor or make a donation, click here.