VOICES 21st Anniversary Always Remember Gala
VOICES Always Remember Gala
November 16, 2022
New York Athletic Club
180 Central Park South
New York City
6:00pm - Cocktails
7:00pm to 10:00pm - Dinner and Dessert Reception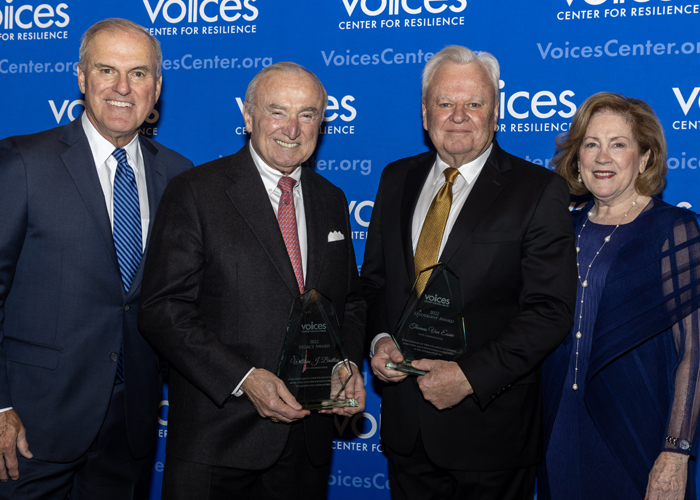 VOICES 21st Anniversary Always Remember Gala was held on November 16 at the New York Athletic Club. What an inspirational evening as we honored two extraordinary individuals for their exemplary careers in public service!
VOICES 2022 Legacy Award was presented to former NYPD Commissioner Bill Bratton in recognition of his 50-year career in law enforcement that included serving as Police Commissioner in Boston, Los Angeles and New York City. Former FDNY Commissioner Tom Von Essen was recognized with VOICES 2022 Leadership Award for his significant contribution in the aftermath of 9/11, and decades of service in a variety of roles at the FDNY. Rightfully so, their remarks received standing ovations.
Once again, our longstanding friend ESPN's Mike Greenberg served as our Master of Ceremonies and set the tone for the evening with his charm and enthusiasm for VOICES work. John Miller, a former VOICES honoree and NYPD Deputy Commissioner of Intelligence and Counterterrorism (retired), offered his personal perspectives and witty anecdotes.
The musical performances of Grammy Award-winning flutist Ty Defoe, along with soprano Karen Vuong, tenor Yi Li, and pianist Stephen Buck, filled the room with exuberance and hope.
The inspirational evening raised funds for VOICES long-term support services for victims' families, responders and survivors, and programs that promote resilience in the lives of those we serve. Thank you to our generous sponsors, honored guests, and all who contributed to making the gala a wonderful success!