VOICES May Highlights

Dear Families and Friends,
May is Mental Health Awareness Month. Mental health conditions are treatable and it is critical to recognize the symptoms in order to seek help. Promoting mental health care is an important part of VOICES mission, and we have provided links to information and resources that may be helpful to you and your family. Our team is always available to assist you.
In observance of Memorial Day and National Military Appreciation Month, our Meet the Author series features Taylor Baldwin Kiland and Judy Silverstein Gray, authors of the recently released book Unwavering. The book shares powerful stories of POW and MIA wives who fought for their husbands' return from captivity during the Vietnam War.
Last month our staff was privileged to attend several events hosted by our longstanding partners. The 9/11 Memorial & Museum opened a new exhibition, "Towers Rising: Envisioning the World Trade Center Before and After 9/11." The artwork of our friends, John Coburn and Brenda Berkman are on display. It was wonderful to see so many people visiting the museum post-Covid. If you haven't already, we encourage you to visit the exhibit!
This year's NYPD Shield Conference was held in New York City, and we were honored to join Susan Rescorla for the presentation of the first Rick Rescorla Meritorious Service Award in memory of her late husband who perished on 9/11.
Through our association with INVICTM and LinCT-AA, we joined our colleague Sue O'Sullivan at the Counter Terrorism Preparedness Network in Washington, DC which brought together partners from across Europe, North America and Australasia.
May 30 marks the 21st Anniversary of the closing of the rescue and recovery efforts at the WTC site. As the anniversary approaches we pay tribute to all those who worked in the rescue and recovery efforts. Along with others, VOICES is here to help those who are suffering with medical and mental health conditions due to their exposure.
With warm regards,
Mary Fetchet & the VOICES Team
---

Meet the Author Series
Taylor Baldwin Kiland & Judy Silverstein Gray
A FREE VOICES VIRTUAL EVENT
Tuesday, May 16 - 7:00pm EST
Join our Meet the Author conversation with Taylor Baldwin Kiland and Judy Silverstein Gray as they share inspiring stories from their recently released book, Unwavering. The book documents the true personal accounts of POW and MIA military wives who waged an epic battle to ensure their husbands, prisoners in Vietnam, were not left behind.
VOICES Founding Director, Mary Fetchet will moderate the conversation and highlight the many parallels between these powerful women and the 9/11 family members who, despite their loss, turned their grief into advocacy efforts in seeking truth and justice in the aftermath of the September 11 attacks.
---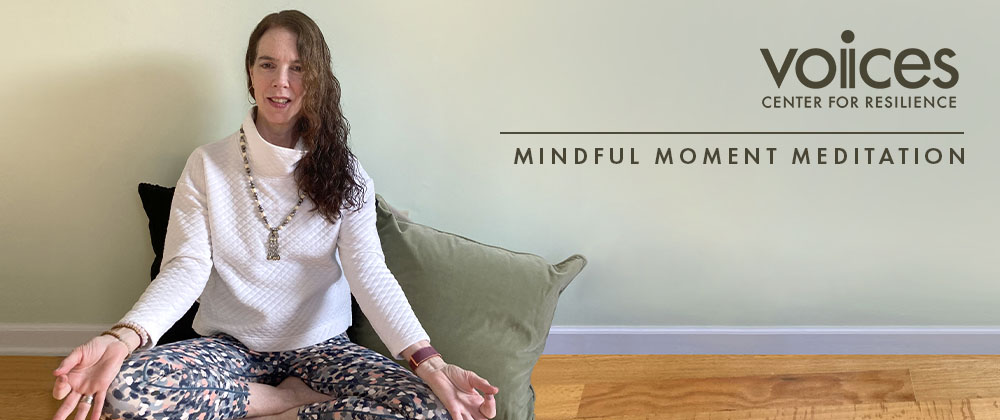 Mindful Moment Meditation
Presented by Meg Rooney
A FREE VOICES VIRTUAL EVENT
Friday, May 12 at 10:30am EST
Join VOICES for our monthly Mindful Moment series with certified yoga and wellness instructor, Meg Rooney. The theme for May is, "Connecting to the Seasons." Together we will pause from the busy nature of our days to breathe, reconnect and begin again - feeling refreshed and rejuvenated. Participation is free and registration is required.
---

May is Mental Health Awareness Month
Understanding the Prevalence and Importance of Seeking Help
May is Mental Health Awareness Month. Although not commonly discussed, mental health conditions are actually very common and treatable.
21% of adults in the U.S. are experiencing at least one mental illness. Approximately 1 in 5 adults – 52.9 million Americans – experience mental illness in a given year. Left untreated, these conditions can result in lost earnings, hospitalization, medical issues including substance use/abuse, leaving school or employment, incarceration, and in some cases suicide. Oftentimes, when an individual suffers from mental illness, the whole family is affected and in need of services. Read more.
---

NYPD Shield Seminar
Countering Terrorism Through Information Sharing
On Monday April 24th Mary Fetchet and Stephanie Landau were honored to attend the 2023 NYPD Shield Conference "Countering Terrorism through Information Sharing" held at One Police Plaza in NYC.
VOICES longtime friend Susan Rescorla was in attendance with her family and friends as they honored her late husband with the presentation of the inaugural Rick Rescorla Meritorious Service Award. On 9/11 Rick was in charge of security for Morgan Stanley and evacuated 2,700 people to safety. You can learn about Rick through this interview with Susan.
This year, Michael Rodriguez, retired Sergeant Supervisor Detective, was the award recipient. Michael supervised the investigation of the attacks of September 11th for the NYPD. The Award was presented by Deputy Chief Joseph Gallucci.
---

Opening for 9/11 Memorial & Museum Exhibition
VOICES Attends New Special Exhibition "Towers Rising: Envisioning the World Trade Center Before and After 9/11"
The VOICES staff had the privilege of attending the recent opening of the newest special exhibition at the 9/11 Memorial & Museum.
The exhibition chronicles the ways artists envisioned the most iconic towers of lower Manhattan before and after 9/11. It features pieces from well-known artists and architects such as Fritz Koenig, Daniel Libeskind, and Michael Arad, as well as the artwork from Brenda Berkman, a FDNY firefighter turned artist, whose prints are featured in the exhibition.
Pictured above is VOICES Founding Director, Mary Fetchet, artist John Coburn, and President & CEO of the 9/11 Museum, Elizabeth Hillman. Lieutenant Brenda Berkman is in front of her "Renew and Rebuild" exhibition.
A digital version of the exhibition has also been created. Learn more.
---

May 30 Commemoration
Honoring 9/11 Responders and Survivors
May 30 marks the 21st Anniversary of the end of the 9-month rescue and recovery effort at Ground Zero. On that day, thousands attended the solemn ceremony where firefighters, law enforcement, and elected officials stood at attention – as the last beam, draped in an American flag was ceremoniously carried up the ramp.
On Tuesday, May 30 at 3:30pm EST the 9/11 Memorial Museum is holding a ceremony at the Memorial Glade that will be livestreamed. Learn more.
---
VOICES Peer Support Groups, led by VOICES clinical staff are held online. The groups provide a safe place to connect with one another, and acquire skills to build resilience. Participation is free and registration is required.
Caregivers
May 24; June 21 - Register
Family Members
May 1 and 15; June 5 and 19 - Register
Survivors
May 16; June 6 and 20 - Register
Responders
May 22, June 26 - Register
Bereavement Group for Those Who Have
Lost a Loved One in the Past 3 Years May 11 and 25; June 8 and 22 - Register
Parents Helping Parents In-Person Support Groups
May 3 and 17; June 7 and 21 - Register
---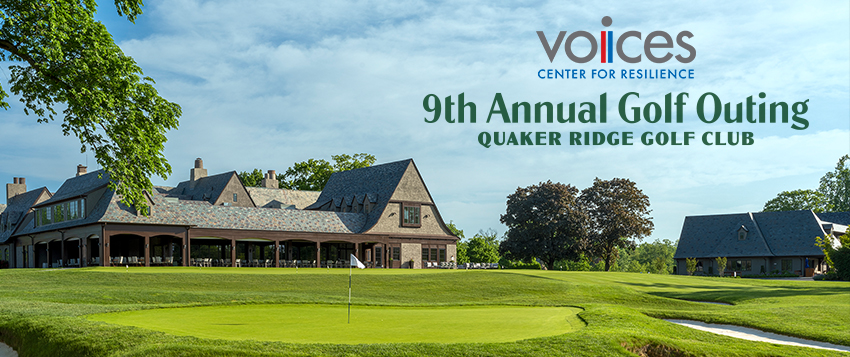 VOICES 9th Annual Golf Outing is Just a Chip Shot Away
Register Now! Limited Slots Available!
Monday, June 12, 2023
Quaker Ridge Golf Club
146 Griffen Ave, Scarsdale, NY
Join us for another extraordinary golf experience at the world-class Quaker Ridge Golf Club in Scarsdale, New York. This year we are offering a hybrid format – a 1:00pm shotgun start or a limited number of assigned tee times from 7:00am through 7:50am. Lunch will be served from 11:00am – 1:00pm. The tournament will be followed by a cocktail reception and an exquisite buffet beginning at 5:00pm. All proceeds support VOICES programs.